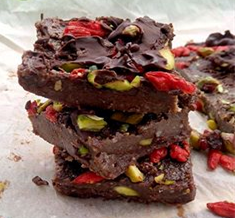 Simple to make sugar and grain free slice. And now with a Christmas twist.
1 ½ cups Almond meal
3 tbsp Coconut oil
1 large Ripe avocado
1/3 cup Raw cacao powder
1 tsp Vanilla essence
¼ tsp Cinnamon
¼ tsp Chili or cayenne pepper
Pinch of salt
½ cup Rice malt syrup
¼ cup Cacao nibs
Sugar free dark chocolate for drizzling
Optional: (To make these a little more Christmas themed I added)
¼ cup pistachio roughly chopped
¼ goji berries
Place nut meal, coconut oil and avocado oil in blender and combine.
Add cacao powder, vanilla, cinnamon, cayenne, salt and rice malt syrup. Blend.
Place sticky mixture into bowl and add cacao nibs +/or pistachio, stir through.
Spoon into tray sprinkle with goji berries, extra pistachio and press down then drizzle with chocolate.
Freeze for 2 hours.
Slice into 12 pieces and allow 10-15mins thaw before serving.