– ALMOND HUMMUS –
with some little twists
Are you a little tired of standard hummus? Or avoiding legumes? Trying the Paleo way?
Well here is a little treat for you.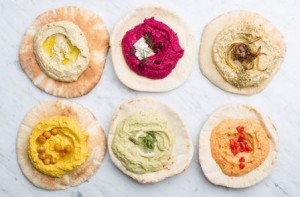 Ingredients
250g almonds, soaked overnight
4 tbsp tahini paste
4 tbsp extra virgin olive oil
1/4 cup water
1 lemon, juiced
2 garlic cloves, crushed
1 tsp Celtic salt
A pinch of pepper
Instructions
Soak almonds overnight to 'activate' them. Then drain the almonds.
Put all ingredients in blender or in a food processor and blend until smooth.
Separate into 4 portions.
PORTION 1 – Classic Hummus
Add some ground cumin and ground coriander.
PORTION 2 – Going green
Increase your vege intake by adding about 100g of wilted spinach and crumble some feta in too (around 30g).
PORTION 3 – Seeing red
Roast a red capsicum, skin and mash it. Then blend through – you can add some olives too if you like.
PORTION 4 – Spice it up
Dice a teaspoon of jalapenos and chop up some coriander with red onion and stir it all up.
I like to serve these dips with radishes, carrot and celery sticks or red peppers.
They are also yummy on salads and vegetables or corn thins!